"V" and TY have 8 babies on board!!! See their info below:
Musicur 'n Five Star's UFO – "V"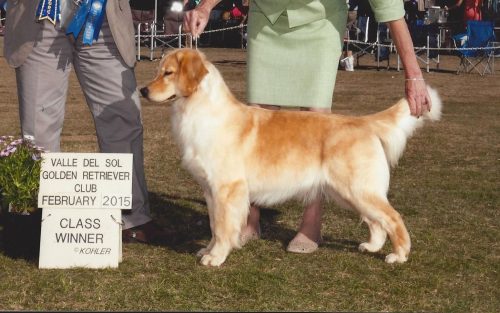 CH Premier's In A New York Minute – "Ty"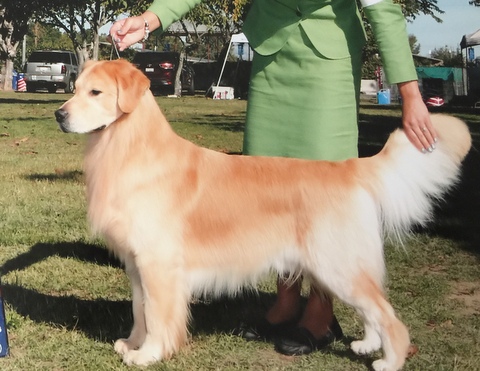 Check out clearances and pedigrees on "V's" page! We are now taking reservations for this upcoming litter!
PUPPIES WERE BORN AUG. 7, 2017!!! 7 BOYS AND 3 GIRLS ALL DOING GREAT! THIS LITTER WAS PLACED EXTREMELY FAST. OUR NEXT PLANNED BREEDING IS WITH OUR GIRL JAVA IN A FEW MONTHS.
************************************************************************************************
 BOOGIE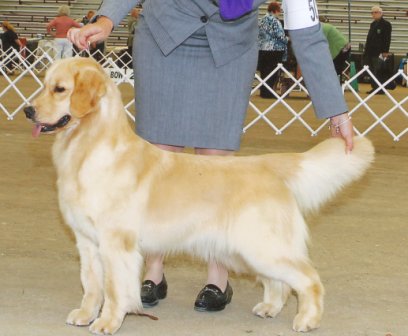 On March 10, 2017 Boogie gave birth to one lone puppy whose daddy is CH Summit's Times Square. The puppy is called Shine and she is, as expected very spoiled!  Here are a couple pics:
Shine 4 wks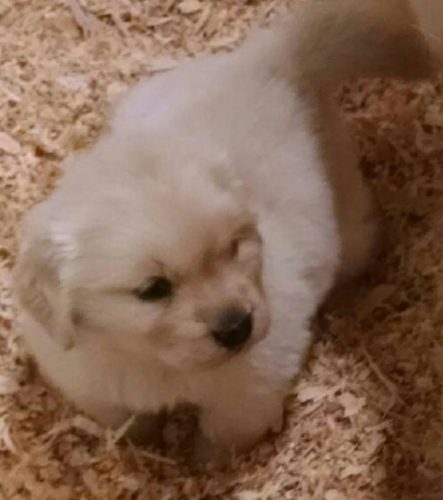 Shine 8wks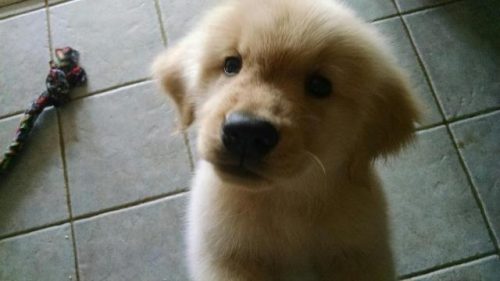 Born a little early on Jan. 30, 2016. "Cheetah" had 11!
9 boys and 2 girls all doing well. See Mom and Dad's photos below. Here are a couple of the baby pictures.
Pick Boy "Stoli" – Now living with Gerri Monohan and Mary Fry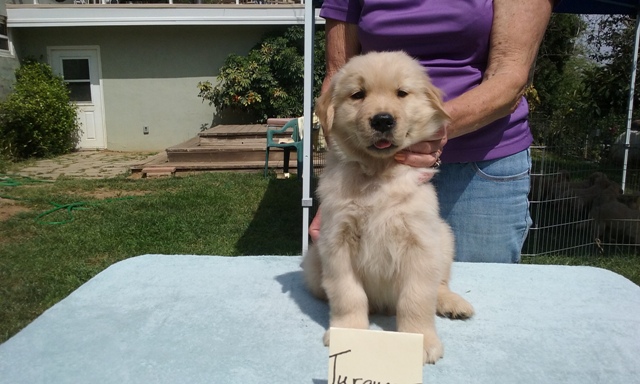 "Stoli" 7 weeks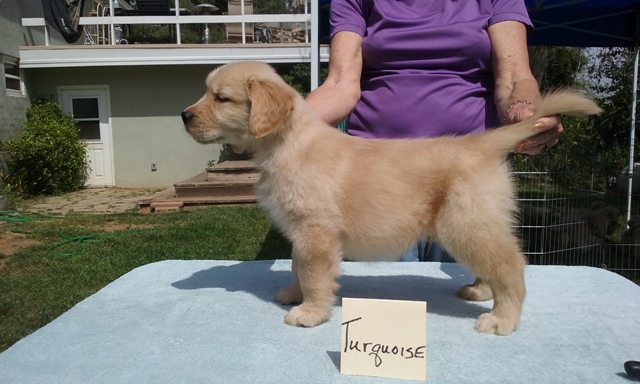 Dark Pink Girl Staying at Musicur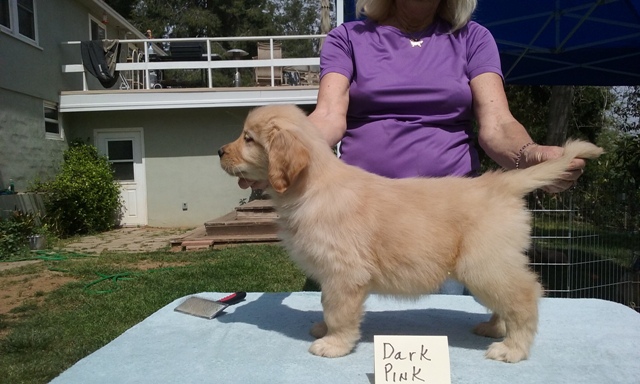 Darling Silver Boy now known as "Bodhi
". Owned by The Splawskis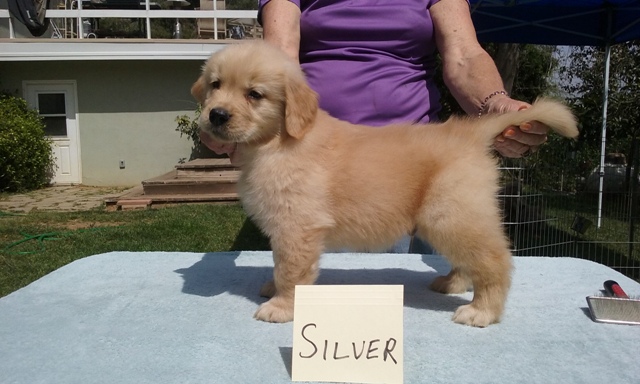 Asterling's Causin' An Uproar -"Cheetah"
Cheetah has all her clearances for hips (Good), elbows, heart and eyes. CHIC #106657. More information on her page. Go to Our Girls page for pedigree.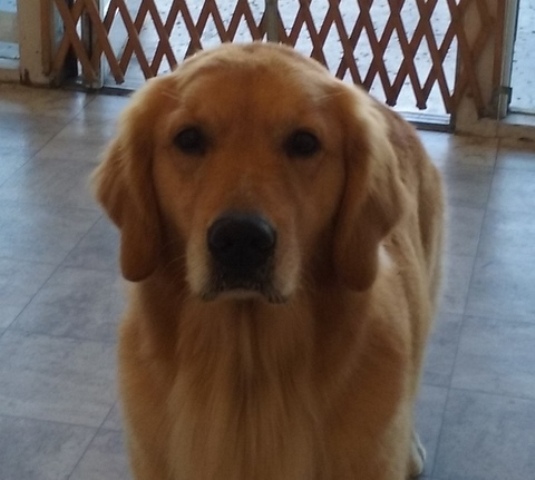 "WILLIE"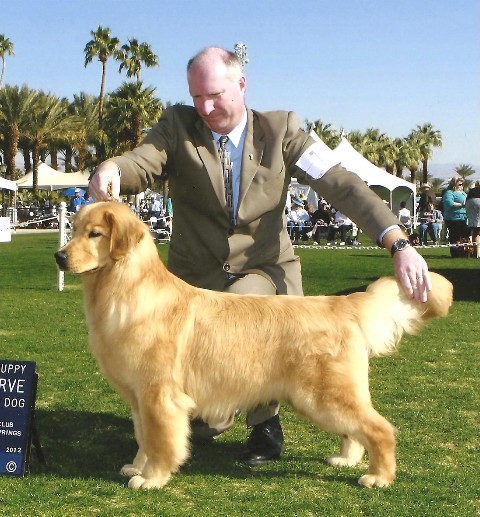 Am/Can CH Sweetgold Mr. Wonderful – "Willie" has all his clearances for hips (Excellent), elbows, heart and eyes. CHIC #100705. Willy won Best in Sweepstakes 5 times on his way to his championship!!
BIS/BISS Am/Can CH Klaasem's Zoom Zoom Zoom Am/Can OS SDHF
Due to the success and consistency of Boogie's first breeding to Freedom we will be repeating this awesome pairing. If all goes as planned the breeding will take place in June. Please check back for more updates and check out puppy pictures on "The Results" page.
"Boogie" has 3 boys and 3 girls born on Aug. 10, 2015!! Mom and babies doing great. Pictures to follow….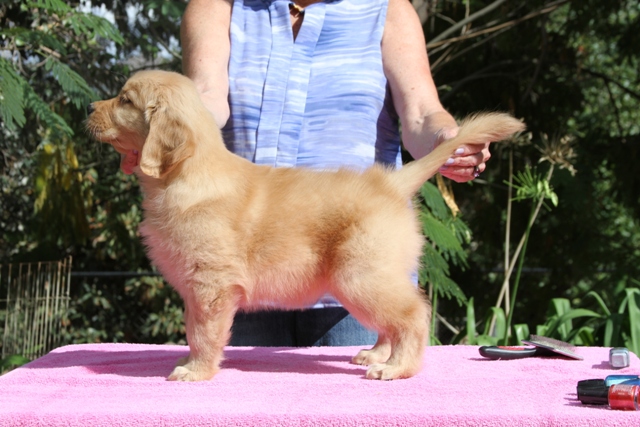 No Mark girl is now known as Five Star 'n Walker's What's My Status (called Facebook)  currently  owned by our handler, Tara Schultz.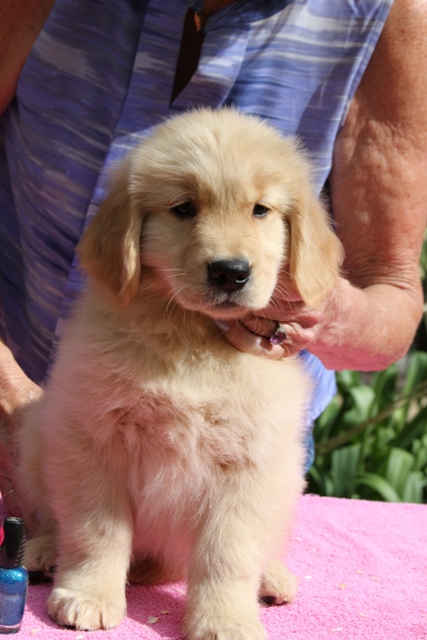 Turquoise Boy now known as Five Star 'n Musicur's Freelance AKA "Lance" currently staying with us.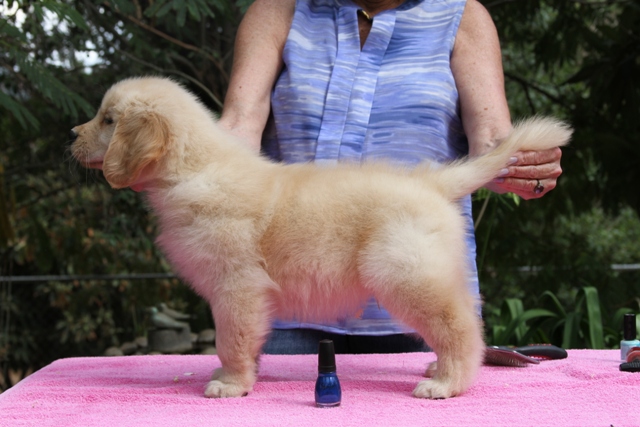 Blue Boy now known as "Ferdinand" and at home with The Ayers.
Boogie's 3 month old daughters by Freedom, born on Aug. 30, 2014.
"Java" "Paden"
"Bolo" (Movie x Tank) at 3 mos. with Toyomi.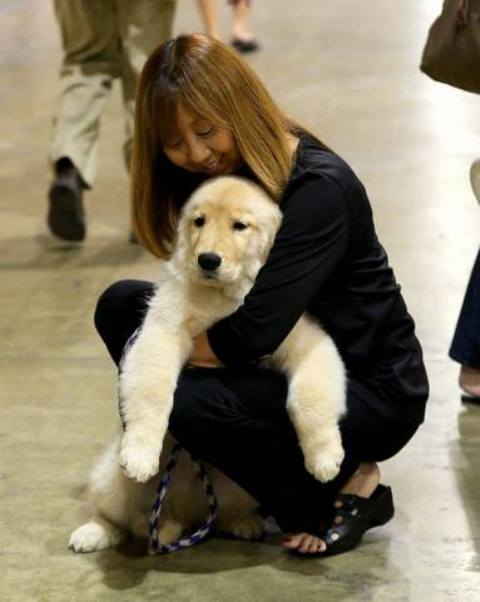 BOOGIE'S puppies are here! Born Aug. 30, 2014….5 girls, 1 boy.
Mom and babies doing great!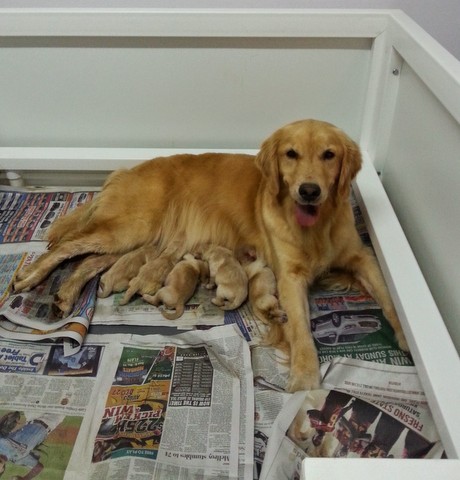 "Boogie" has been bred to "Freedom". Freedom is the #1 Golden in the country with several Best in Shows and Reserve Best in Shows. His k9data link is below:
CH Five Star's Bust A Move – "Boogie"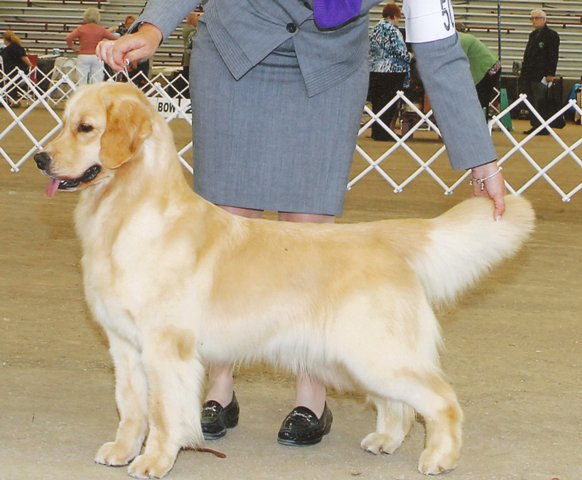 GCH Sandpiper's Let Freedom Ring SDHF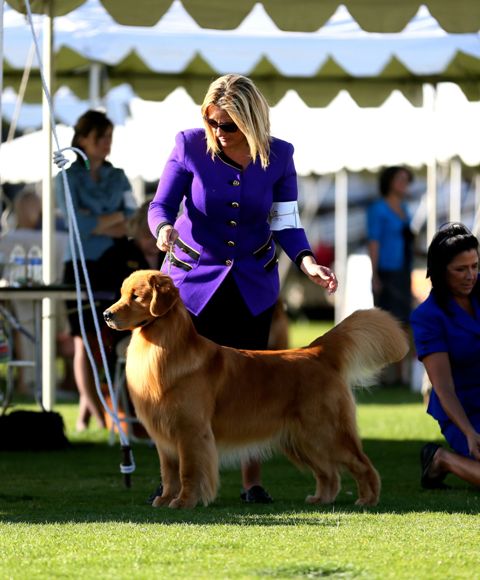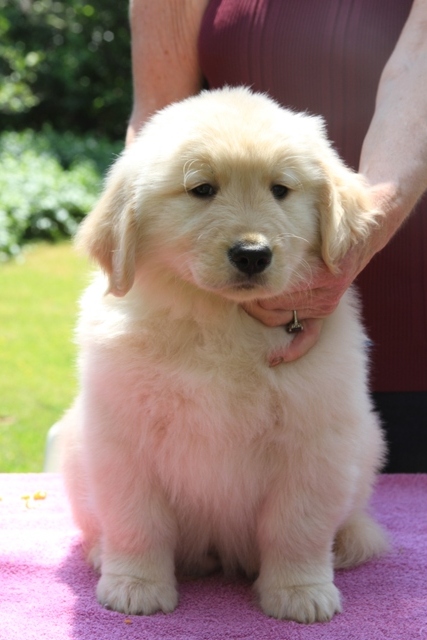 "Borgio" owned by Rebecca Stafford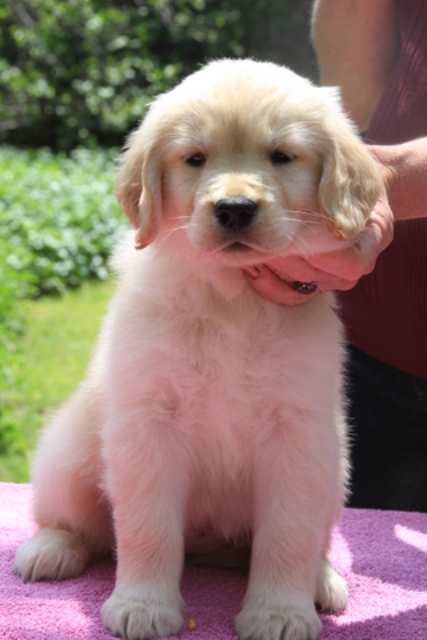 "Lilly"- owned by The Crowells
Movie has been bred to CH Majestic's Tanks A Million – "Tank"
Tank finishing his Championship at 3 years.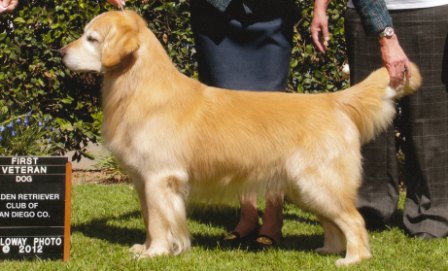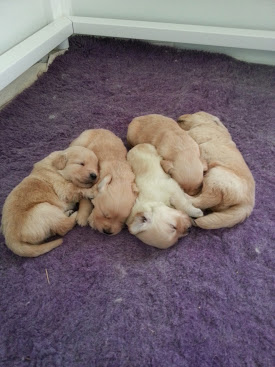 "Blair's" breeding to "Blake" has produced babies!
Blair surprised us by whelping her babies 2 days after Movie!!
She has 3 girls & 2 boys!!!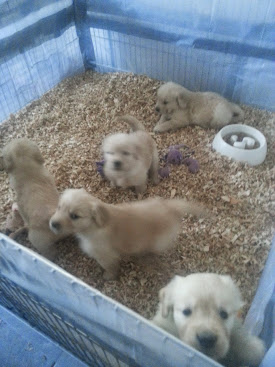 Blair's babies 5 weeks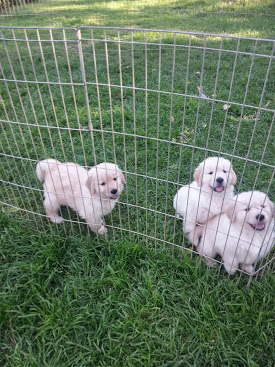 Movie's babies 6 weeks