CH Musicur's Pick Up Line – "Blair"
Whelped: April 26, 2008
CHIC #73895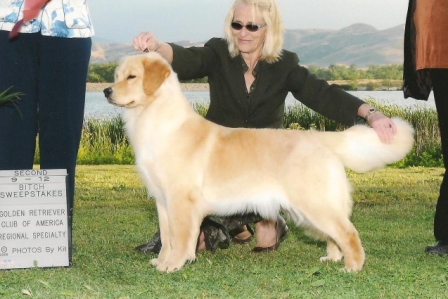 Blair placing 2nd in Sweeps at the Western Regional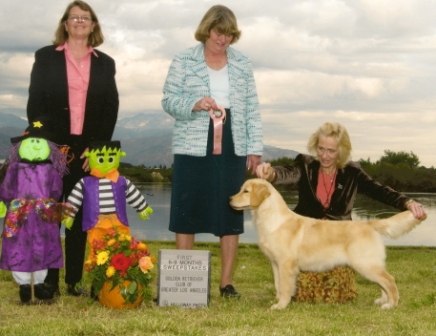 As a baby at her first show winning the 6-9 Sweeps class
Blair is Saxon's sister. She hasn't had the show record as her "show off" brother but has won many Sweeps classes, including a BOSS, and several major Reserves. She is a lovely girl with a whole lot of panache.
BLAIR IS A CHAMPION!! She finished with back-to-back 4 pt. majors AND BOS over Specials bitches. We're very proud and posting win photos of her when they arrive.
Here's the awaited photos!!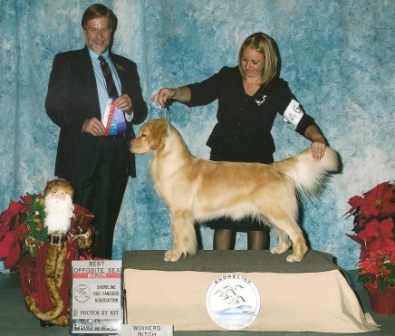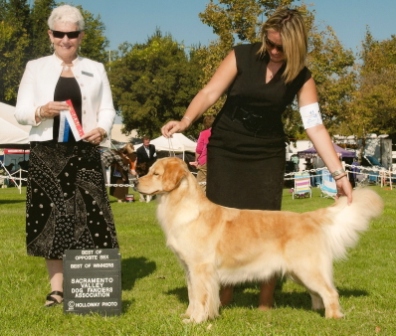 Thanx to Professional handlers, Bruce & Tara
Schultz, Blair finished her championship in
Pedigree

Parents

GrandParents

GreatGrandParents

CH Carrera's Custom Made

BIS BISS AM/Can/INT CH Pacificgold's The Dance AM/CAN SDHF OS

BIS BISS AM/CAN CH Rush Hill's Haagen Daz CDX AX OAJ WCX VCX OS SDHF; CAN CD WC
CAN CH Pacificgold's Once'n A Blue Moon
CH Carrerra's Flashdance OD
AM CAN CH Goodtime's Best Case Scenario CD JH WC VCX OS SDHF
CH Summit's Shadow Dancer OD SDHF

Five Star's Garnished Wages

(10 pts)

AM CAN CH Pulali's Stetson Fits OS SDHF
CH Suntory Lovit A Cherrybrook CDX JH OA VCD1 OS SDHF
AM CAN CH Pulali's Ebullient Genisis
Musicur Fivestar Twilite Zone
CH Dalane Alexander Ragtyme Kidd
CH Five Star Musicur Set To Jet