NEWS

A lot has transpired over the past 4 years, the saddest being the loss of my mom, Helen Howard. But we got to live together for her last 5 years and I learned many lessons of love and forgiveness; I miss her dreadfully. We also lost several of our old dogs during this time multiplying our sadness. Then the pandemic hit and all dog shows in CA stopped, taking away the joy of showing our beautiful Goldens.  But time does heal somewhat and that is why I am so happy to announce "Tesla" won a 3 point major at the Black Mountain KC dog show in Henderson, NV on Oct. 17, my daughter's birthday! Now we are counting the days until she comes in season to be bred (see the Puppies page).
After a rough year we can finally celebrate a beautiful litter of 10! "V" and CH Premiere's In A New York Minute ( Ty) are the proud parents of 7 boys and 3 girls. Mom and babies doing great!!
What an exciting month! JAVA is a Champion!! She finished at the Malibu KC show Dec. 11 at the same show on the same date as her cousin, CH Musicur's Pick Up Line (Blair) did 5 years earlier! So she is now known as CH Five Star Musicur's Jitter Juice.
But that wasn't all! Java's little sister, Maddie AKA Musicur's Mau Di Tah, was Reserve! (Owned by Cheyenne Kruse) So we had to have a sisters pic:
THEN…..a few days later on Dec. 14 sister Payden AKA CH Five Star N Walker's Escapade flew to Florida for the National Championship shows. The first day was hosted by Space Coast KC and "Baby Payden", as her owner Toyomi Tsumura calls her, became a "big girl" by beating over 100 Goldens for Best of Breed honors!! Wow, Wow, Wow!!! She went on to win 3 Select honors, one being at the actual Eukanuba Nat'l Championship show!
We are over the moon proud of our Freedom/Boogie daughters!!!
"Java" is pointed!! After a short stint at Camp Schultz she went to Arizona and won her first points in the form of a BOW major, just as her mom did! Then a couple weeks later she went to Primm, Nevada and went back-to-back WB for 2 more points! We are very excited about this pretty girl!
We've had a long hiatus since our last shows as all our dogs went down to their "undies" during the hot, hot summer. But having grown their beautiful coats back we all travelled to fabulous Palm Springs Jan. 2016 to show at the LA Golden Retriever Specialty, So. Cal Sporting Dog Specialty, and Palm Springs KC shows. Four glorious days of "waves of gold"! "Payden" won her 12-18 class 3 of the four days, "Java" won 4 2nds and 2 other placements and "Paisley" pulled off a 2nd on the last day. So proud of our girls after being away from the show ring for months!! But the BIG news is times 2! "Maddie", the girls little sister from the repeat breeding, won the 4-6 month baby class against 10 other puppies!! This was her first show!! SO proud of her! She is owned by
Cheyenne Kruse.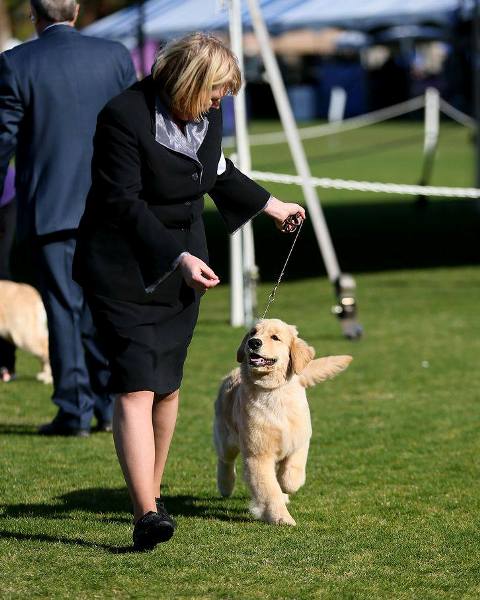 Then, over in the obedience ring, "Jessie" and Gerri were setting a blistering pace in Novice B winning qualifying scores of 198, 195 and 198 which finished their CD title and qualified them for a Dog World award!! Way to go!! So very proud of you guys! "Jessie" is formally known as Musicur Regal Gold Shameless CGC, CD and is owned and adored by
Gerri
Monohan & Mary Fry.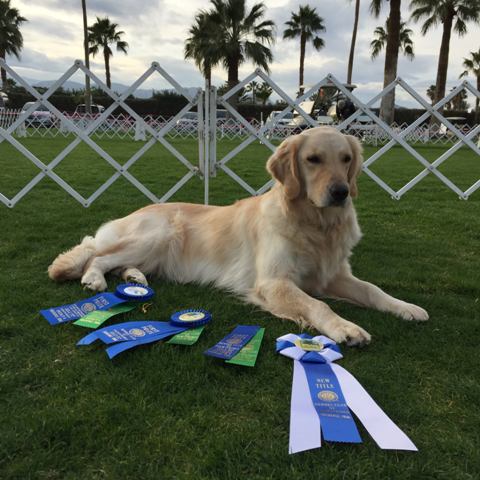 The Freedom/Boogie siblings have been doing quite well in the show ring.
Recently at the GRCGLA specialty weekend "Java", "Payden" and "Paisley" all won classes in either regular or sweeps classes and Paisley went BOS in Sweeps!! This was Paisley's first weekend in the ring! She is owned and loved by Jackie & David Brown and Vickie Margolis. Payden is owned by Toyomi Tsumura who also owns their Daddy Freedom!
April 2015…….Payden wins her 1st 2 points from 6-9 and goes BOW at the Conejo KC show!!
March 2015…..Java goes Best in Match at the GRCGLA specialty match!!
"Blake" has a new Champion daughter! "Jinx" finished in November in AZ. She is now AKC CH Wildfire's A Kind Of Magic. She is also an International CH. Owned and shown by Laura Jack, Jinx is bred an co-owned by Laura's mother, Deborah Wheat.
"Boogie" has babies! 5 girls, 1 boy delivered on 8-30-14.
Mom and kids doing great!
Oct. 11 & 12, 1914….."Strut" wins back-to-back 4 pt. majors in Las Vegas to finish his championship!!!!
BIG NEWS!!! "Boogie" finished her championship at the Del Sur show on March 15, 2014!!
Movie & Blair both have babies!! Born 2 days apart! Movie has 3 boys & Blair has 3 girls & 2 boys. All doing great!
Both "Movie" and "Blair" are pregnant! Puppies due around the end of Feb.
"Boogie" had a great weekend in Ventura….back-to-back WB for a total of 13 pts! Just needs a major to finish!!!
"Strut" won another pt. at Imperial Valley KC bringing his total to 4 points.
"Wasabi" is finished!! She is now CH Blackngold's My Favorite Spice.
Wasabi was piloted to her championship by our handlers Bruce & Tara Schultz and their Team in record time (3 months!).
"Blake" has his 1st Champion!! "Splash" (Blake x Fergie) owned by Florence Cox & Melissa Simpson, is now CH Ridgeview's First Time For Everything At Rubicon!! See Splash's photo on Blake's page.
"Boogie" wins again at Angeles Canyon DC on April 19 for another 2 pts!
"Boogie" just won 2 points by going WB,BOW,BOS at the Kachina KC in AZ on 4-5-2013. Her younger half-sister, "Splash", went Reserve.
Both girls are "Blake" daughters. Their other Blake half-sis won the next day! "Jinx" also went BOW for 2 pts. from the 12-18 class! Then the last day "Splash" won…..WOW!! Blake is a very proud papa!! (Boogie's win photo to follow)
Wasabi enroute to winning Best Sporting Dog Puppy at the So.Cal. Sporting Dog Fanciers !st Group show!
Wasabi and me accepting the trophy for Best Sporting Dog Puppy. Cheyenne and Star were in tears!!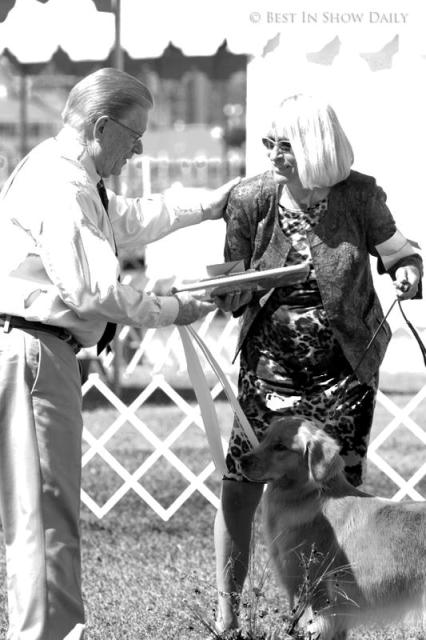 Our new girl, Wasabi, which we co-own with our dear friend, Cheyenne Kruse, with whom Wasabi lives. She probably needs her own page!!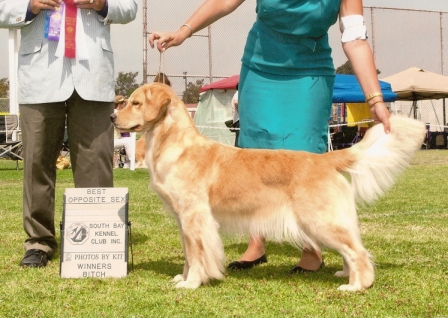 "Blair" just won 2 pts on Sun. Aug. 14, 2011 at South Bay KC. She was awarded Winners Bitch and Best Opposite over a Specials bitch!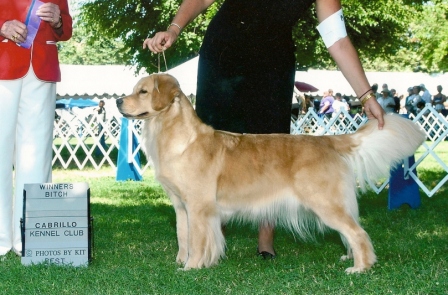 September 3 for 2 more points at Cabrillo!
Back-to-back Winner's Bitch (and BOW) at the Cabrillo weekend.
BIG NEWS!!!!
"Boogie" wins Best in Sweeps at the Palo Verde Specialty in Arizona!!!
And then, her little brother " Strut", goes Best Opposite Sex in Sweeps from the 6-9 class!!
Older sister Blair wins the Open class and and is awarded RWB!
What a great day….November 17, 2011
More win photos to follow….
Thanksgiving Day 2011 Saxon becomes a papa for the 1st time. "Roxy", AKA Artistry She Rox The Party delivered 4 babies! Roxy is owned by Rebecca Scribner. Thanx, Rebecca!
"Blair" is a Champion, winning back-to-back 4 pt. majors at the Holiday Classic shows in Costa Mesa this Dec. What a great Christmas present!!
"Blake" became a Grand Champion in Feb., completing his requirements in ONE MONTH!! Along the way he garnered BOS at the Valle del Sol Specialty in Arizona.